OK, this is obviously written probably by someone from India who hasn't quite grasped all of English just yet.

BUT, read it. It's easy and makes a lot of sense once you discount the author's little faux pas (s).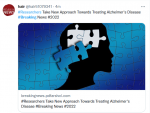 August 13, 2022
In a recent strategy, scientists on the College of California, San Francisco, have geared toward treating Alzheimer's illness utilizing new know-how. The strategy entails focussing on microglia, a kind of cell that stabilises the mind by eliminating broken neurons and proteins which can be typically related to dementia and different mind sicknesses. Whereas the adjustments in these cells have been linked to Alzheimer's illness, they continue to be to be understudied. Researchers have now used a brand new CRISPR know-how that allows them to manage these microglia cells. This, in accordance with the workforce, can result in a brand new strategy to the remedy of Alzheimer's illness.
Within the mind, extraordinary immune cells can't get by way of the blood-brain barrier. That is the place microglia cells come into play. They act because the immune system of the mind and assist flush out the waste and toxins whereas preserving the neurons functioning correctly. When these microglia cells start to lose their manner, it ends in mind irritation and may harm the neurons and their networks.
The microglia cells may even find yourself eradicating the synapses between neurons below sure circumstances. This course of is a traditional a part of mind growth in childhood and adolescent years. However, in adults, this may result in disastrous results on the mind.
The workforce, led by Martin Kampmann, PhD, geared as much as detect the genes that have been answerable for particular states of the microglial exercise. With this, they may change the genes on and off and put the dislodged cells again of their place.
They made microglia cells by way of stem cells donated by human volunteers and confirmed that they functioned like their extraordinary human counterparts. The workforce then got down to develop a brand new platform that mixes a type of CRISPR and permits the researchers to modify particular person genes on and off.
With this, the workforce was capable of zero in on the genes that have been answerable for the cell's potential to outlive and proliferate. The genes additionally impacted how actively a cell produces inflammatory substances and the aggression with which a cell prunes synapses. The detection of the kind of genes helped the researchers efficiently relaxation them and convert the disease-ridden cell right into a wholesome ones.
"Our examine gives a blueprint for a brand new strategy to remedy," he stated. "It is a bit of a holy grail," stated Kampmann. He's the senior creator of the examine revealed in
Nature Neuroscience
.
#Researchers #Method #Treating #Alzheimers #Illness In a recent strategy, scientists on the College of California, San Francisco, have geared toward treating Alzheimer's illness utilizing new [...]
breakingnews.pdfarsivci.com